Title
For over 50 years my husband, Peter, and I have farmed in Jaffrey on Sawyer Farm, our fifth generation dairy farm, nestled since 1858 on the rocky soil under Mount Monadnock.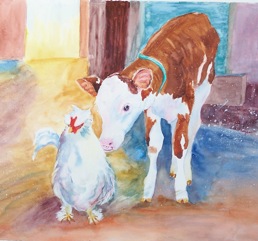 Title, information
Studio Name: 
Sawyer Farm Art
Medium: 
Watercolor and watercolor collage

Address:
365 Turnpike Road Jaffrey, NH03452
Phone: 
603 532 7962
My art journey began more than 40 years ago when I decided to learn to drive something beside a tractor so I could take lessons at Sharon Arts Center. For the first seven years on the farm I didn't need to drive. We really couldn't go anywhere with our beginning herd of 40 milking Jerseys and 40 head of young stock. Our garden, preserved vegetables,milk and meat fed us. Our trips to the grocery store happened every 10 weeks and we would spend $100. The Sears Roebuck catalog could supply the work clothes. It was later that I took Helen Boyman's dressmaking class at Sharon.
I got my license and took Nora Unwin's very first class at Sharon in drawing, then pen and ink (I have one of Nora's own pens that she gave me.), and after that her watercolor classes. Nora never got rid of me! What a lovely teacher she was. After Nora died, Giffin Russell of Antrim gave super classes for advanced watercolor. She had me until she retired. It is such a privilege to have Sharon Arts Center in our community to provide such great support for all kinds of artistic exploration and community.
I painted what everyone paints at first, still lifes (boring for me), landscapes, wonderful, useful color charts. One day in a workshop a teacher asked me why I didn't paint my animals. Wow, a lightbulb moment! I never looked back and have painted them ever since. We are told, "Paint what you know. Paint what you love."
We built our dairy herd up to 100 milking Holsteins and another 120 young stock. Peter rose daily at quarter of three and fed and milked 100 head before breakfast. I raised the babies, and was mom to all the little heifer calves from the moment they were born and usually I had 40 which I fed and watered twice a day, seven days a week. They all had names. All this left very little painting time especially when our daughter, Jennifer, was young, and later when we began nursing declining parents who spent their last years with us, bedridden for several years. But having a class at Sharon meant that the homework assignment had some priority.
Farm life is full of joy and laced with disasters over the generations. Ours illustrates both. The first great barn fire came with lightening in 1917. In 1983 our five year old 80 foot cement stave silo collapsed across the barn killing 35 head. The community generously responded helping with clean up and rebuilding. In 1999 our disastrous fire occurred and took 135 head. After that I did a lot of cow paintings, and decided that I was creating my new herd on paper.
I had long thought of doing a book with my art "someday." I decided that I had better commence because my "somedays" were getting limited! I wanted to introduce to everyone, with my art, the wonderful animals that I have lived with on our farm. I have nurtured them through their life's cycle, but really it is they who have nurtured me. And,too, I wanted to tell a story of dairy farming in Jaffrey, because so very few dairy farms are left in the area, Without our farms , we lose the ability to produce our healthy food, and we lose the beauty of our open farmlands and our wildlife habitats. Farms add such a richness to our life in the Monadnock Region. What would our landscape look like without farms and their animals?
Inside The Artist's Barn has 80 paintings and a bit about each of them and Sawyer Farm history. I have tucked in agricultural facts that get lost in today's less rural life, such as how long it takes to become a cow. It is a celebration of our farm animals, generous helpers of our labors.
Last year (2010) I did The Artist In Monadnock Farmyards, exploring many more farms under Monadnock. Here again Sharon classes helped me with Heather Lawless' computer class, Fit To Print. Still I can't believe that I designed each page on the computer and printed it through Lulu.com. Without Heather, I couldn't have done it.
On my refrigerator is the reminder from John Engle,Jr.,"We should be aware before we start, that the art of work precedes the work of art." And in my art notebook I clipped a Richard Schmid quote, "Let your subject come from within you and be a simple act of sharing. In a sense, every work you do is a self portrait because your paintings always reveal more about you than about your subject. Your experience of something itself is the true underlying subject of every work you do. Ultimately, that is how your work, or that of any other artist will be judged."
Nora Unwin was doing collage back in the '60s when it was new. She showed us a bit of the technique. I really enjoy the challenge of collage. It is exploration. I paint tissue paper in the colors that I want for my painting, tear them and design where they will go, or perhaps I toss a few pieces here and there trusting my painting muse will select just the right spot. But I have to remember that the Landscape painter Stapleton Kearns says, "Nothing good gets into a painting by accident." There is a lot of thought and certainly there is a lot of play involved,and hopefully more than a little poetry. Thoreau said,"We find only the world we look for," so that I try to include in the painting and sing my painting song accordingly.